Claro,
não é, nunca foi, nem, jamais, será minha opinião
mas uma batelada de gente concorda uma vez que, como o próprio Tolkien dizia sobre o livro...
"The Lord of the Rings / Is one of those things: / If you like you do: / If you don't, then you boo!"
Foi também o próprio Tolkien quem disse que:
JRR Tolkien: 'Film my books? It's easier to film The Odyssey'
www.telegraph.co.uk › Film
British daily newspaper, The Telegraph, have released online an interview with Tolkien which was originally published on 22 March 1968. The interview - a must-read for Tolkien fans - covers a wide range of topics…
www.tolkiensociety.org
It's been said that the books will always be better than the movies they inspire, but these arguably superior adaptations didn't get that memo.
screenrant.com
E o Silmarillion, numa escala até maior*, também provoca reações similares. Como essa adorável postagem de um amigo de Facebook ( trollador anti-tolkienista consumado) expõe muito bem: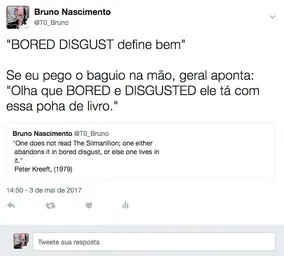 Acima minha réplica e contraponto a Mr Brunão.
20 discussion posts. artemisa27 said: Good morning from Spain!I´m opening this topic because I don´t get how people can not like Silmarillion. I think ...
*
Google groups-Several "I don't want to read the Silmarillion" Lord of the Rings questions
Esse comentário do Peter Kreeft (
https://en.wikipedia.org/wiki/Peter_Kreeft
) de 1979 talvez tenha influenciado a famosa memética forma do Boromir se expressar sobre como era uma empreitada arriscada tentar se infiltrar em Mordor na adaptação do Fellowship of the Ring.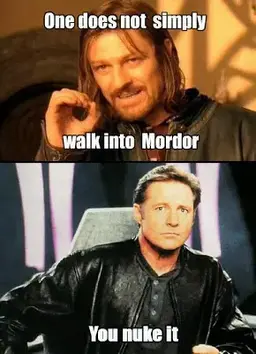 Última edição: